If you are using Google Docs for writing the posts or your other blogging work, here are some of the best Google Docs Add-ons for Bloggers which can help.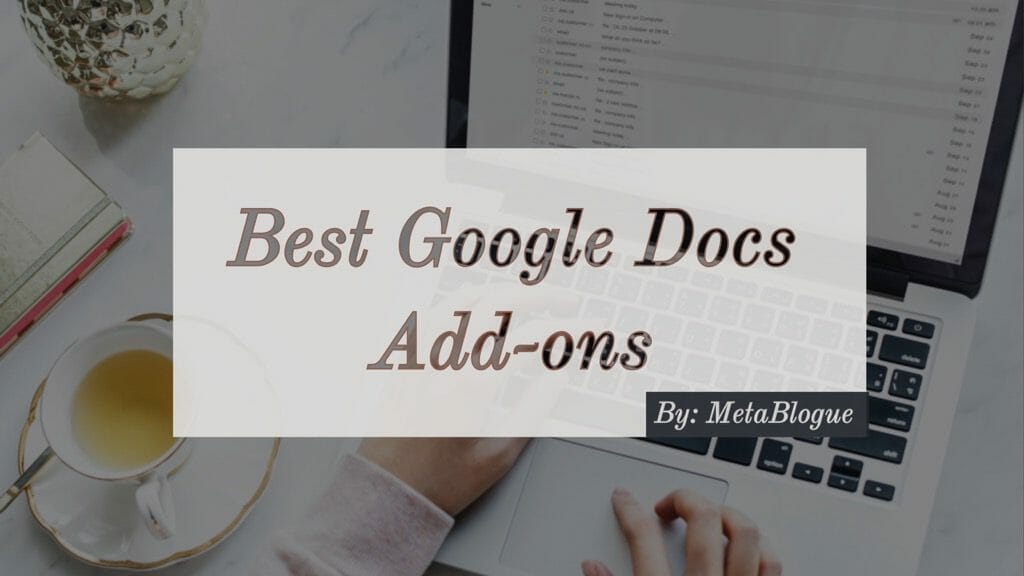 Google Docs is unarguably the most loved writing app not only for offices but also for bloggers and people who love to write.
What makes it so popular is the easy navigation on its surface, the research tool which allows you to have hassle free sidebar searches and the fact that you can work on it offline via its app.
Best Google Docs Add-ons For Bloggers
When it comes to blogging, a blogger always needs to stay on the top of his game. All this is possible with customized themes, attractive fonts, and some graphics to make it fun and so on. This concludes us to fill up the addons folder of your Google docs with Best Google Docs Add-ons.
Here is a list of best Google Docs Add-ons which you can install to improve your productivity.
Styles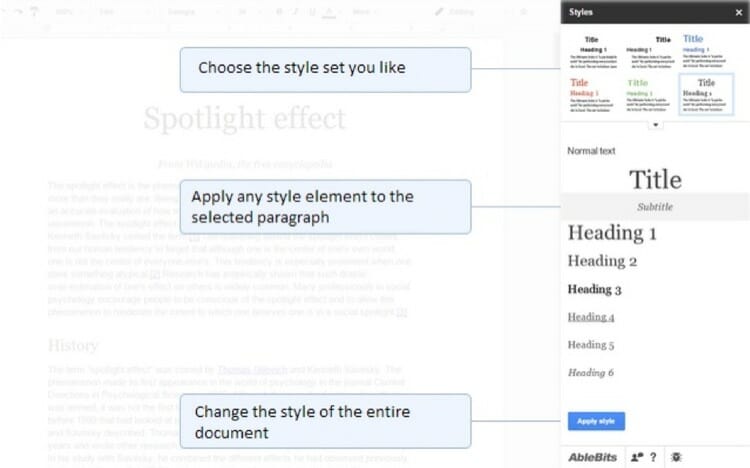 I'm sure you've heard the term "First impression is your Last impression?" Believe it or not, it always works and so does Styles.
This is one of the best Google Docs add-ons as it structures, beautifies and formats your mundane paragraphs into aesthetically pleasing ones.
Get your document customized in a single click, sit back and relax!
---
Speech Recognition Sound Writer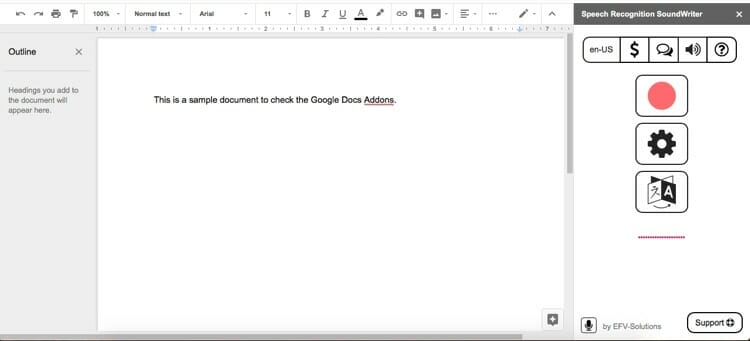 If you're someone who wants everything to be faster and accurate, this is the best option for you to work with.
Speech Recognition allows you to use the microphone and write your articles. Use this add-on to take notes, make a map of your blogging content or just express freely with whatever comes to your mind.
The best thing is that it saves up a lot of time and also avoids the timely corrections we require while writing continuously.
---
Doc Builder

The main function of Doc Builder is to insert snippets from the sidebar. This means that the task of typing the numerous amounts of data is just reduced to an easy task of opening a sidebar and then formatting as per your preferences.
You can add images, tables, pie charts from old documents and hours of typing. Do note that Doc Builder saves the information on Google Sheets. There are smart snippets which can take inputs from multiple places and create text.
Being such a handy tool, it is indeed one of the best Google Docs add-ons.
---
Text Cleaner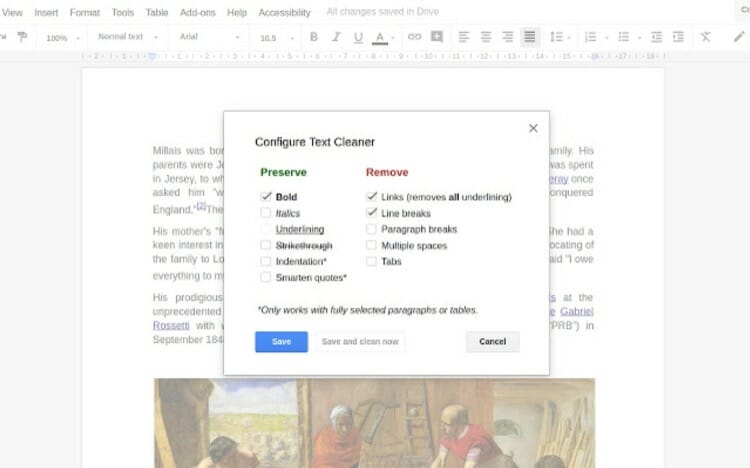 This tool is a lifesaver! I know it's pretty exhausting to complete an article and then spend nearly 20-30 minutes of your time formatting it. Ever wished for automated formatting? This is it.
Text Cleaner performs the function of preserving your font style and discards all types of line breaks, kinks, multiple spaces and paragraph breaks.
---
Easy Bib
For all the academic and legal writers out there, this is the halo for your research papers. Easy Bib- Bibliography creator creates and writes bibliographies for you and automatically inserts it at the end of the article.
The navigation is easy and all you need to do is search the titles or URLs in the Search menu of the sidebar. Also, it is loaded with 7 thousand + styles which include APA, Chicago, Harvard, MLA, etc.
---
Page Layout Tool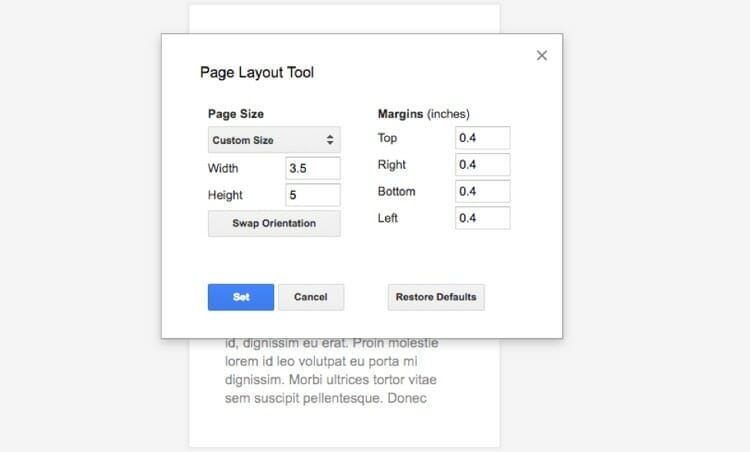 Customize your page sizes as per your printing needs. Page Layout tools enable you to set the page size and page margins in different supporting units which include millimeters, centimeters, inches, points, and picas.
---
Search and Navigate
It's difficult to get back to a point you wish to add something to or edit it. Search and navigate helps you to locate what you're looking for in large and big documents.
Even if you don't type out long ones, here are some features you can use for your convenience-
– Browse your document with the help of the search menu in the sidebar.
– See the list and placing of all the images and tables in the sidebar.
– Create, locate, add, edit or delete bookmarks with bookmarks option in the sidebar.
– Advanced search helps you search specific words in your text.
---
WordPress.com for Google Docs
WordPress is one of the most used platforms by the bloggers because of a various relevant and beneficial reasons. WordPress does have a lot to offer which includes a set of customizable blog themes, domain, analytics and much more.
So, you're all set to shoot another article and are done typing your content in Google Docs. After all the search and alterations, you've gotta publish it on your WordPress blog. Which means a whole new set of formatting, NNOOOOO!
I've got you covered; one of the best Google Docs add-ons is Doc to WordPress.com for Google Docs, which is a life saver. Its function is to transfer your Google doc to WordPress as it is and it automatically adjusts to your blog's theme. No more formatting required. I know you'll thank me for this!
---
Docs Tools
This add-on is for all your minor but important adjustments and formatting of your document.
Increase or decrease your text or heading-sub-headings, highlight, erase, format text in ascending or descending order, change the text to numbers and vice versa, sort out the lower and uppercases or toggle. All this with just a single click.
---
OneLook Thesaurus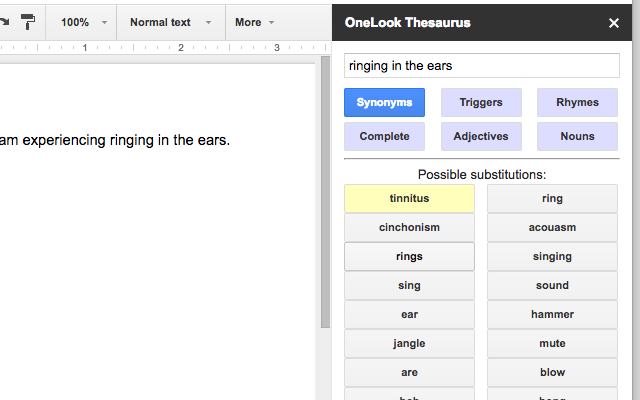 One of the most important things for bloggers is vocabulary. Making sure that the words are used correctly and make an impact on your readers.
OneLook Thesaurus help you find the exact word or phrase which you should use in your documents. If you want to replace any word or phrase, just select and find the alternatives. It is as Easy as it looks.
So here are some of the best Add-ons for Google Docs which can help every blogger to work faster and become more productive.
Is there any Add-ons which I have missed or you have found useful for your workflow? Please let us know in the comments.